---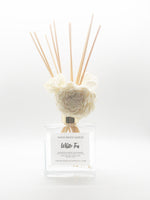 Love!
Love! Such a great scent - love walking into my bathroom 😀!
love when my house smells like the W Hotel!!!!!
Love this scent, want it for every room in my house!!!
Smells Soooo Good!
This scent smells amazing! It's not too weak or too strong, but just right. I will definitely be ordering for family and friends.
White tea is fresh citrusy top notes of mandarin and bergamot, middle notes of thyme and ginger.  Chrysanthemum petals and white tea buds round out the base of this exquisite fragrance.
Our natural reed diffuser is perfect for all-day freshness without flames.  The fragrance base flows up nicely and mess-free through our natural reed sticks.  The wooden flowers provides a decorative touch to compliment your existing decor.  Each diffuser is 5 oz and estimated to last 2-3 months.