---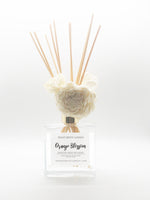 Buy This
I have my doubts about the longevity of scent for any reed diffuser but this one from Shady Grove is just the right amount of scent for my bathroom and smells quite pleasant even several weeks into use - will buy again!
Your always go over and above expectations!
Love your product and exemplary service
Very pleased with diffuser
Diffuser emits a lovely lasting scent. The room in which it's located is a very open space, the diffuser works great! I will definitely purchase more.
The scent is so nice, permeates just right. I think I like using the diffuser better than candles
Orange Blossom is delicate, fresh and sweet. Top notes of bergamot, middle accords of neroli and jasmine is rounded out by light sandalwood.
Our natural reed diffuser is perfect for all-day freshness without flames.  The fragrance base flows up nicely and mess-free through our natural reed sticks.  The wooden flowers provides a decorative touch to compliment your existing decor.  Each diffuser is 5 oz and estimated to last 2-3 months.