---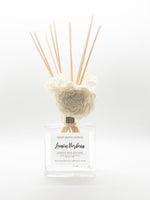 Adore your line
I live in Savannah, GA and find you when I was in DC. I bought 6 items originally and then order another 12.; my favorite was Lemon Verbena!
I give your diffusers as gifts snd everyone adores them. Just need to order more when you make them!!
Lemon Verbena Reef Diffuser
Love this diffuser. The scent is perfect and the wood flowers add such a nice touch. I love lemon in the kitchen and bathrooms.
Lemon Verbena Reed Diffuser
Great product. Attractive and wonderful scent. Using in our guest bathroom. I love these products.
Rene Marinelli
Love your diffusers, especially lemon verbena and Frazier fur
Reed Diffusers
I love the beautiful Reed Diffusers. So excited to give them as gifts for the holidays. Shipping was fast too. Thank you!
Lemon zest and floral verbena creates this uplifting fragrance. Bright, lightly sweet notes of citrus and sugar bolster a heart of lemon verbena and lemongrass. 
Our natural reed diffuser is perfect for all-day freshness without flames.  The fragrance base flows up nicely and mess-free through our natural reed sticks.  The wooden flowers provides a decorative touch to compliment your existing decor.  Each diffuser is 5 oz and estimated to last 2-3 months.