---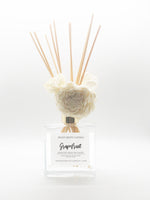 Awesome
Always complimented on the beautiful display, grapefruit scented reed diffuser. Love that it is local small business owned.
I really like this product
Returning Diffuser Customer
This is the third diffuser I have purchased for myself and I've love them all - but this scent is my favorite so far! These make a great and affordable gift!
Tangy grapefruit with hint of the exotic citrusy mangosteen and peach. 
Our natural reed diffuser is perfect for all-day freshness without flames.  The fragrance base flows up nicely and mess-free through our natural reed sticks.  The wooden flowers provides a decorative touch to compliment your existing decor.  Each diffuser is 5 oz and estimated to last 2-3 months.