---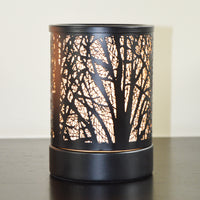 Winter Forest Wax Melt Warmer
Beautiful! Stunning compliment to any decor! It works beautifully and the scents that I purchased to accompany it are fantastic. Great products!
Excellent product
Bought this to decorate our new home. Arrived very well packaged without damage. The scents are great and the warmer looks fantastic. Warms quickly and the fragrance starts right away. Would definitely recommend.
Beautiful Wax Melt Warmer
I bought this warmer as a gift and my daughter in law loves it. The fragrances of the melts are amazing. I'm so thrilled that I found Shady Grove Candles.
Love the glow of a candle but don't want to worry about open flames?  Our electric wax melt warmer is a perfect alternative.  Your favorite scented wax melt is heated by a 25 watt incandescent light bulb (included) that provides a soft warm glow when it's on. This modern design of winter forest in black is the perfect addition to your decor.  Select any one of our wax melts to go with your warmer.