---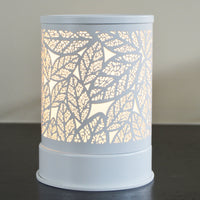 Unfortunate accident
Sadly my son dropped the warmer the floor and broke it. In my attempt to replace and fix the broken bulb I made it worse and we never actually got to use it.
Love these!
Smells wonderful and lasts a long time!
Love the glow of a candle but don't want to worry about open flames?  Our electric wax melt warmer is a perfect alternative.  Your favorite scented wax melt is heated by a 25 watt incandescent light bulb (included) that provides a soft warm glow when it's on. This modern sillhoutte design of leaves in sleek white is the perfect addition to your decor.  Select any one of our wax melts to go with your warmer.