---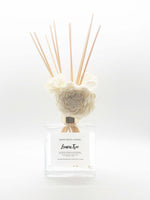 Wonderful scent
Love the scent of the Lemon Tree!
Diffusers Lemon grass
I can't stop purchasing the diffuser for myself, friends, family, clients. It is a mustache.
Elegant and refreshing, this scent is a blend of lime and green tea. 
Our natural reed diffuser is perfect for all-day freshness without flames.  The fragrance base flows up nicely and mess-free through our natural reed sticks.  The wooden flowers provides a decorative touch to compliment your existing decor.  Each diffuser is 5 oz and estimated to last 2-3 months.