---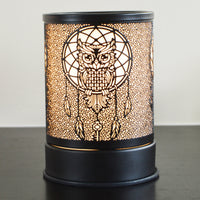 LOVE THE OWNER OF THIS COMPANY!
I met this owner at a craft show while I was in MD for a travel lacrosse game for our kids. She's awesome! Kind, hard working, funny!
The Cutest Wax Melt Warmer Ever!
I got this as a present for my daughter who loves owls! She absolutely adores it! We also had amazing customer service. Highly recommend the warmer and shady grove candles and melts!
Love the glow of a candle but don't want to worry about open flames?  Our electric wax melt warmer is a perfect alternative.  Your favorite scented wax melt is heated by a 25 watt incandescent light bulb (included) that provides a soft warm glow when it's on. This adorable design of an owl perched on a dream catcher is the perfect addition to your decor.  Select any one of our wax melts to go with your warmer.